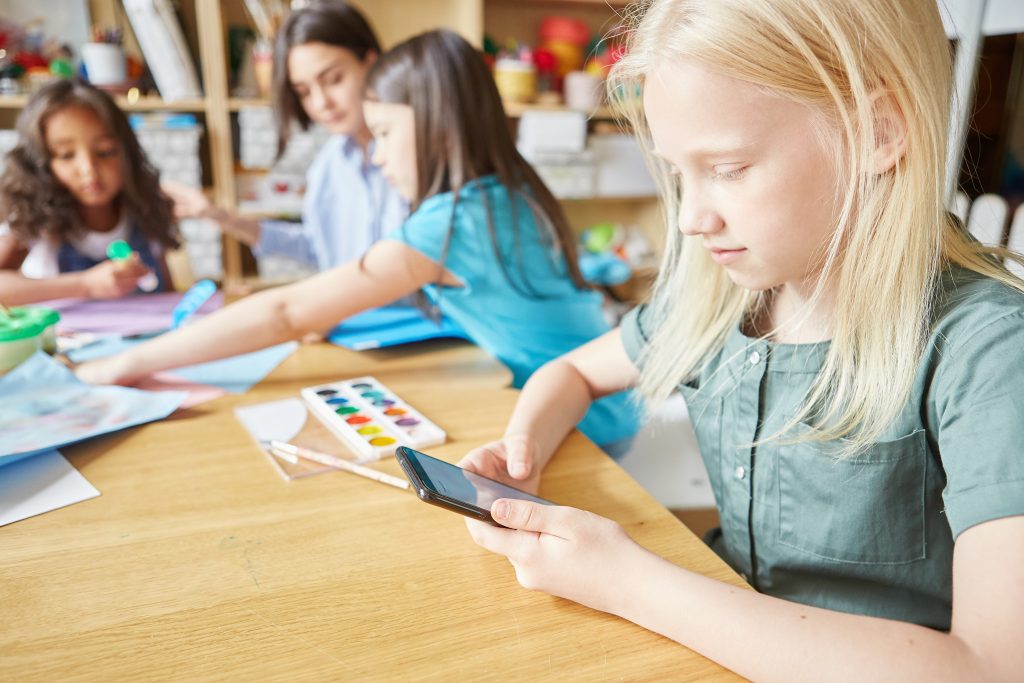 In today's digital age, technology plays an extremely important role in education. Students and teachers depend on smartphones and other mobile devices as necessary tools for communication, safety, and learning. Strong cellular connectivity is no longer a luxury for schools, it's a necessity. However, poor indoor cell phone signal within campus premises can hinder the full potential of these devices.
What causes poor cellular service in schools?
Unfortunately, poor cellular signal within facilities is a very common issue that schools are currently facing. One myth to the cause of poor campus cell phone signal is due to "cell signal blockers" or "jammers" intentionally placed by school administrators in efforts to keep students off devices and focused on classwork. This is not only unethical but also considered highly illegal by the FCC. Back in 2015, a Florida science teacher was even suspended for placing one of these signal-blocking devices in his classroom.
The real reasons why school buildings could experience poor cellular service could be due to any of the following:
Thick construction materials like concrete, brick, steel, and low E-glass
The proximity between the building and the nearest cell tower
Energy efficient windows
Surrounding obstacles between your phone and the nearest cell tower such as tall buildings, trees, hills, valleys, etc
Mass cellular usage among students and staff
Why Schools Need Strong Cell Phone Signal
Effective Communication
Seamless communication is one of the foundations of any successful educational institution. A robust indoor cell phone service ensures that students, teachers, and staff can easily connect with one another. By eliminating frustrating dead zones and dropped calls, schools create an environment where information flows seamlessly, facilitating efficient collaboration and timely response to emergencies.
Facilitating Parental Involvement:
Parents play a vital role in their children's education and maintaining a strong line of communication between home and school is crucial. Reliable indoor phone signal allows parents to stay informed about important updates, schedule changes, or emergencies. Whether it's a simple check-in or addressing general student concerns, parents can easily connect with school personnel, fostering a sense of involvement, security, and support.
Enhancing Safety and Security
We, unfortunately, live in an era where safety in schools can be questioned, and we ultimately want as many precautionary security measures taken as possible. Having poor indoor cellular coverage puts students and staff at risk. During critical situations such as natural disasters, accidents, or security threats, a reliable cellular signal ensures that students, teachers, and staff can quickly and effectively communicate with each other and emergency services. This timely and seamless communication enables the coordination of emergency responses, allows individuals to request assistance, and provides crucial information to those outside the affected area.
Strong cellular signal facilitates better communication between parents and teachers. Parents are able to stay in the loop about any safety-related updates, school closures, or incidents that may impact their children. This transparency creates trust and guarantees that parents are aware of their children's well-being while at school.
Mobile panic buttons and safety apps, which are increasingly being deployed in schools, can also benefit from a strong cellular signal. These tools are linked to the school's security system and allow users to send distress signals and share their location with school authorities or first responders during emergencies, enhancing the school's ability to respond quickly to potential threats. Every second counts in the event of an emergency, reliable cell phone signal could be the deciding factor that saves lives.
Empowering Digital Learning
The integration of mobile technology in classrooms is transforming the learning experience. Smartphones and tablets provide students with access to a vast array of educational resources, interactive applications, and online research tools. One example of how cellular devices are utilized in the classroom is by utilizing an online learning tool called Kahoot. Kahoot provides fun and engaging games that teachers can customize to fit the curriculum they are teaching. Students then use their own personal devices to access Kahoot applications. Without having adequate cellphone signal, teachers have less opportunity for utilizing technology in the classroom.
Wi-Fi typically serves as the primary network for schools and can typically support digital learning applications for both students and teachers, but Wi-Fi can come with limitations. Some schools don't allow students to connect their personal devices to the network. In many cases, a school's Wi-Fi network doesn't have the capacity to support hundreds or thousands of users at once. Having a strong cellular network in place serves as a great backup in the event the Wi-Fi network goes down.
Having good cell phone service in the classroom ensures that students can seamlessly connect to the internet, collaborate on projects, and leverage educational applications, promoting a dynamic, engaging, and modern learning environment.
The solution to poor indoor signal in school
We've discussed why many schools have poor cellular coverage and why it's important to have reliable cell phone signal on campus, but how can schools increase their signal?
The primary solution used to increase cellular signal for commercial buildings is referred to as Distributed Antenna System (DAS). A distributed antenna system (DAS) is a collective network of antennas placed throughout a building or an area to create cellular signals that enhance existing cellular coverage and increase phone signal strength. There are three different kinds of distributed antenna systems, all of which work to enhance signal, but differ in complexity and use case. The three DAS solutions available are…
Passive DAS
Active DAS
Hyrbid DAS
Passive DAS
Passive and active DAS are two different types of Distributed Antenna Systems (DAS) used to enhance cellular signal coverage in buildings and other areas with high user density. They differ in how they handle the signal distribution and amplification process. Passive DAS offers a simpler and cost-effective solution that is better used for smaller areas in comparison to active DAS. It relies on components such as splitters, couplers, and attenuators to distribute and divide cellular signals. The signals are then sent through coaxial cables to antennas that are strategically placed throughout the building. This solution is typically best used for buildings that don't have a large amount of user traffic and less square footage. A passive DAS cellular enhancement solution is typically easy to install, and requires less equipment and maintenance. Thus making it a more affordable and the ideal solution for projects that cover a small amount of square footage.
Active DAS
On the other hand, Active DAS solutions tend to be more sophisticated than passive DAS, which are used for larger buildings/campuses with higher user density. Active DAS is powered through signal amplifiers which use fiber optic cables to boost and distribute cellular signals. As previously mentioned, this technology is highly utilized in large-scale projects such as big school campuses, stadiums, airports, shopping malls, etc. These solutions require detailed planning, are generally more complex to install, and come with a high price tag compared to passive DAS solutions.
Hybrid DAS
Hybrid DAS, as implied, combines elements of both active and passive DAS technologies. Hybrid DAS provides more flexibility that can be customized to suit the needs of a coverage area. In a hybrid solution, powered signal amplifiers and passive components are integrated into the system. These solutions are better suited for various types of environments, including mid-sized buildings, campuses, and any kind of commercial building. By combining the positive elements of active and passive distributed antenna systems, hybrid DAS offers a cost-effective and efficient solution that offers dependable cellular signal coverage across an array of coverage areas. Click here to learn how we integrated a hybrid DAS solution for Texas independent school district.
Improve Signal For Your School
In an era where technology plays a central role in education, schools must prioritize strong indoor cell phone service. Enhancing cellular connectivity within school premises facilitates effective communication, enhances safety measures, promotes parental involvement, and supports digital learning initiatives. By investing in reliable cellular infrastructure, educational institutions empower their students and teachers to leverage the full potential of technology, fostering a rich and immersive learning environment. Depending on your needs, there are a variety of solutions – single carrier options, carrier pre-approved options, and multi-carrier cellular enhancement solutions. Wytec offers ever-green solutions to meet your growing needs.
To learn more about Wytec's cellular enhancement solution and recent projects, click here. To get in contact with a specialist please email sales@wytecintl.com or you can call us at (888) 284-4531.