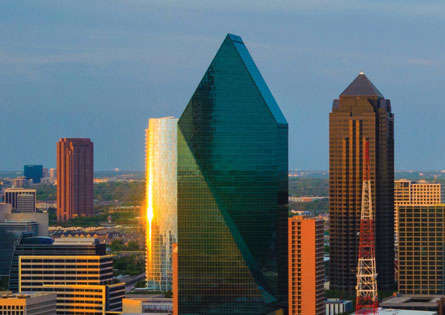 Fountain Place- Dallas, Texas
Project Type: Cellular Enhancement
An underground parking garage at Fountain Place, a 58-story building in Dallas, Texas, had no cellular coverage. This presented multiple issues to the tenants including dropped and missed calls. The building owner, inundated with complaints, needed a solution to the problem.
Fountain Place (Goddard Investment Group) opted for Cel-Fi by Nextivity QUATRA 2000 systems throughout the three underground parking and service levels to improve cellular coverage. The solution would enhance cellular coverage for all four US carriers. Goddard Investment Group (GIG) selected Wytec to deliver the Cel-Fi solution.
The Cel-Fi solution for Fountain Place is extremely complex. There are twelve QUATRA 2000 Network Units providing services for the four carriers. While tenants are now able to make calls from the garage, Wytec will continue to work with GIG to refine this system, which may include a migration to an LPN-16 small cell solution.