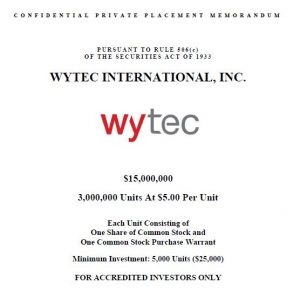 Wytec International, Inc
Confidential Private Placement Memorandum
$15,000,000
For Accredited Investors Only: Wytec is offering up to 3,000,000 units (the "Units"), each Unit consisting of one share of common stock (the "Shares") and one common stock purchase warrant (the "Warrants").
Each Warrant is exercisable for cash until December 31, 2021 at an exercise price per share equal to the greater of (i) $5.00 or (ii) 85% of the average closing price of our common stock as quoted on the public securities trading market on which our common stock is then traded with the highest volume, for ten (10) consecutive trading days immediately prior to the date of exercise.
The Shares and underlying Warrants will be subject to Regulation D (Reg D) Rule 506(c) of the Securities and Exchange Act and Wytec reserves the right to terminate this offering at the Company's discretion.