2020 Investor Presentation
Own patented 5G technology
Delivering three Next-Generation wireless solutions
Partnering with Nokia Corporation (world leader in 5G technology)
Projected year-five revenues of more than $541 Million
Five-year projected share price at $143
Get more information about Wytec's Offering
$2,500
Minimum Investment
Coming Soon!
Total Investors
Regulation D (Warrants Included)
$25,000
Minimum Investment
Sign Up for Investor Updates!
Wytec is a telecommunications company that has developed intellectual property that can simplify the deployment of 5G and private cellylar networks. Wytec also works with top technology providers to advance inbuilding cellular networks, with a strong concentration on school district cellular needs.
Since 2012, Wytec has been developing innovative technology and building a foundation that would lead to the possession of a patent for Wytec's next generation Light-Pole Node 16 (the LPN-16), which is designed to support both the new CBRS spectrum and Wi-Fi 6. Wytec has been awarded a subsequent patent for its technology and has continued to evaluate and test its use cases. The technology can support a robust, neutral-host, multi-carrier, dense wireless network utilizing utility poles as its distribution access throughout America's cities.
In addition to our efforts with our patented technology, Wytec is an inbuilding cellular integrator with significant work within Texas school districts. Wytec has developed relationships with global leaders to provide first-in-class solutions to its clients.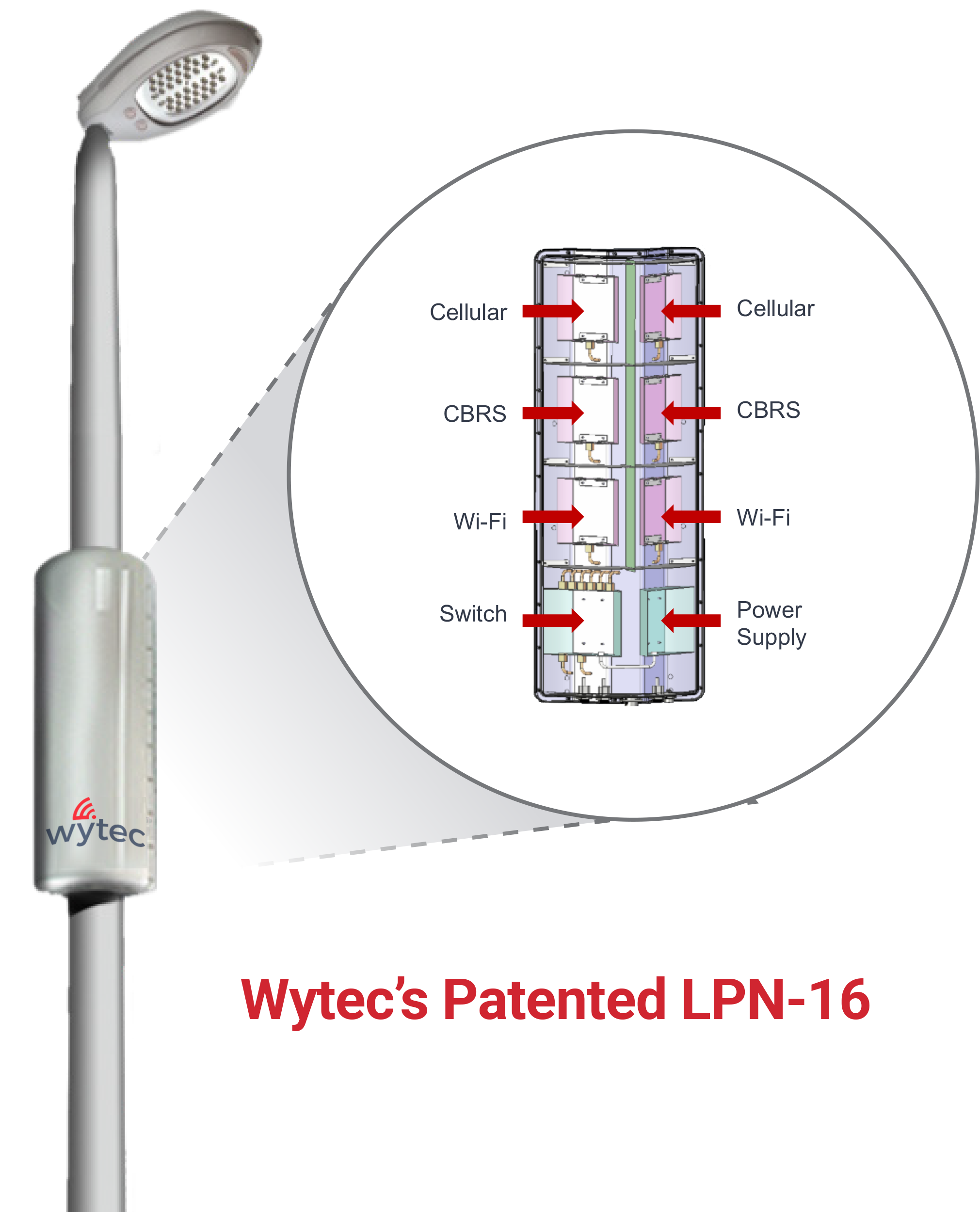 Today's industry news indicates that multiple carriers are testing 5G deployments with the use of small cells and other technology components. The primary difference, between Wytec's small cell architecture and that of the carriers' current small cell trials, is Wytec's neutral-host, citywide deployment approach, which allows for multiple carriers to transmit from one unit (LPN-16). Other carriers offer a "surgical" deployment approach, allowing for only one carrier to transmit from each unit. This type of deployment is costly and can overwhelm municipal infrastructure. Due to Wytec's multiple carrier approach, carriers and cable operators can realize substantial savings in deployment and transmission cost. Wytec is currently testing the LPN-16 in San Antonio for these metrics and to gain certification of the LPN-16.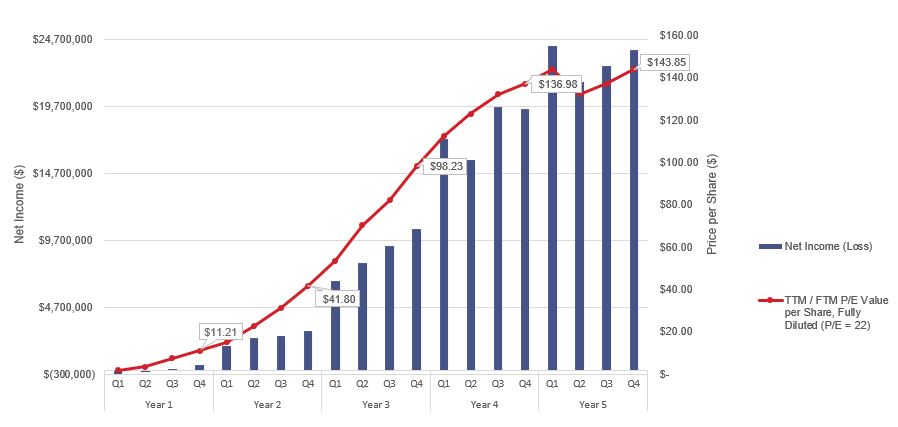 To generate a share price in the above graph, Wytec engaged the services of Lowery, Powell, Stevens & Mangum P.C. to forecast Wytec's total valuation and price per share based on a Discounted Cash Flow (DCF) Valuation Model. The number was dependent on a calculation involving multiple items, including: Wytec's projected and forecasted revenues, an assumed net income tied to the successful completion of the Company's current project relationships with the Bexar County ISD Project, and its winning procurement agreement with the Central Texas Purchasing Alliance (CTPA). The price per share calculations are assuming that the Company is completing certain projects during the five-year forecast, as well as moving forward with its MVNO solution, and has a limited number of sales with its LPN-16 technology.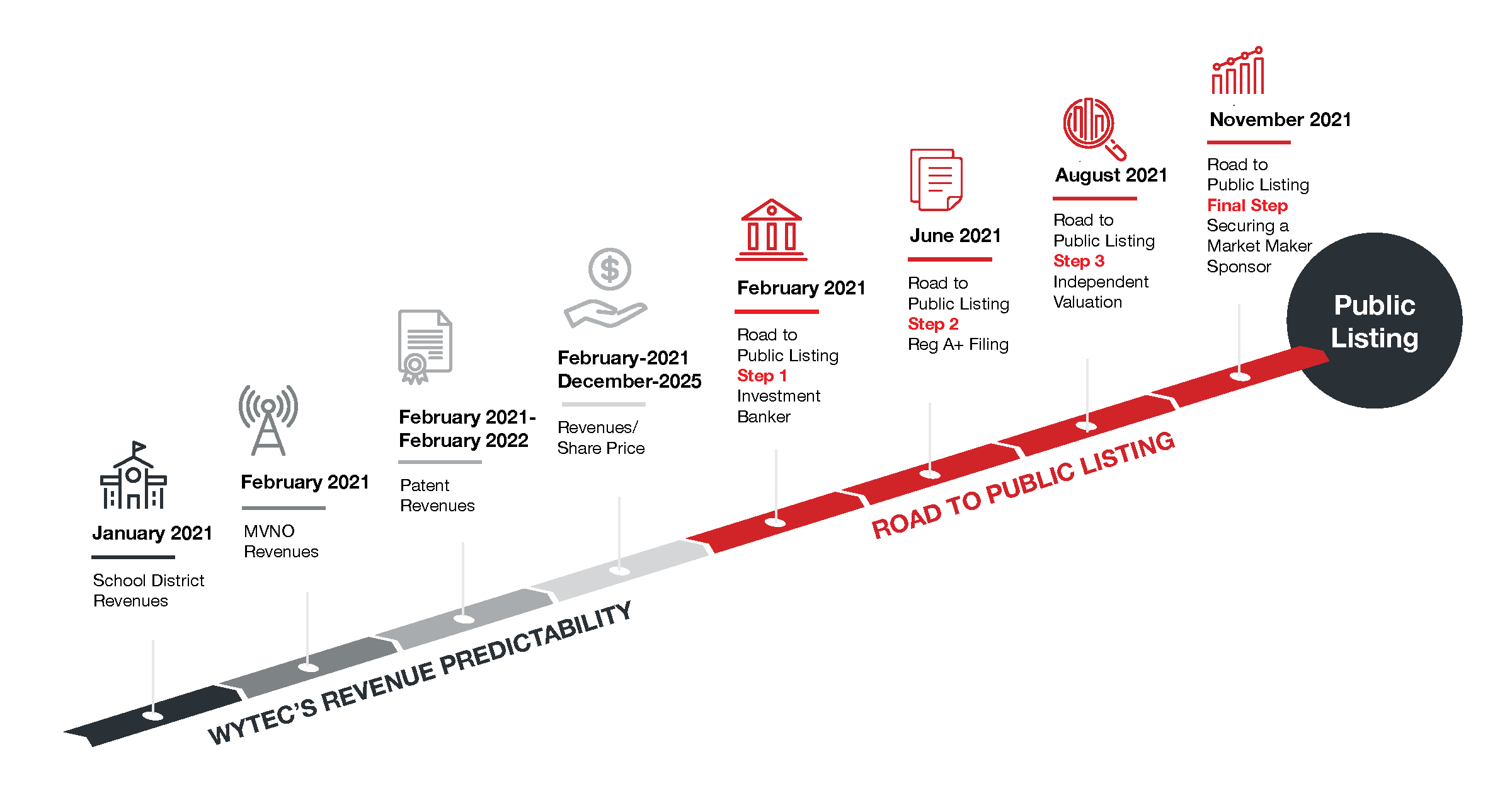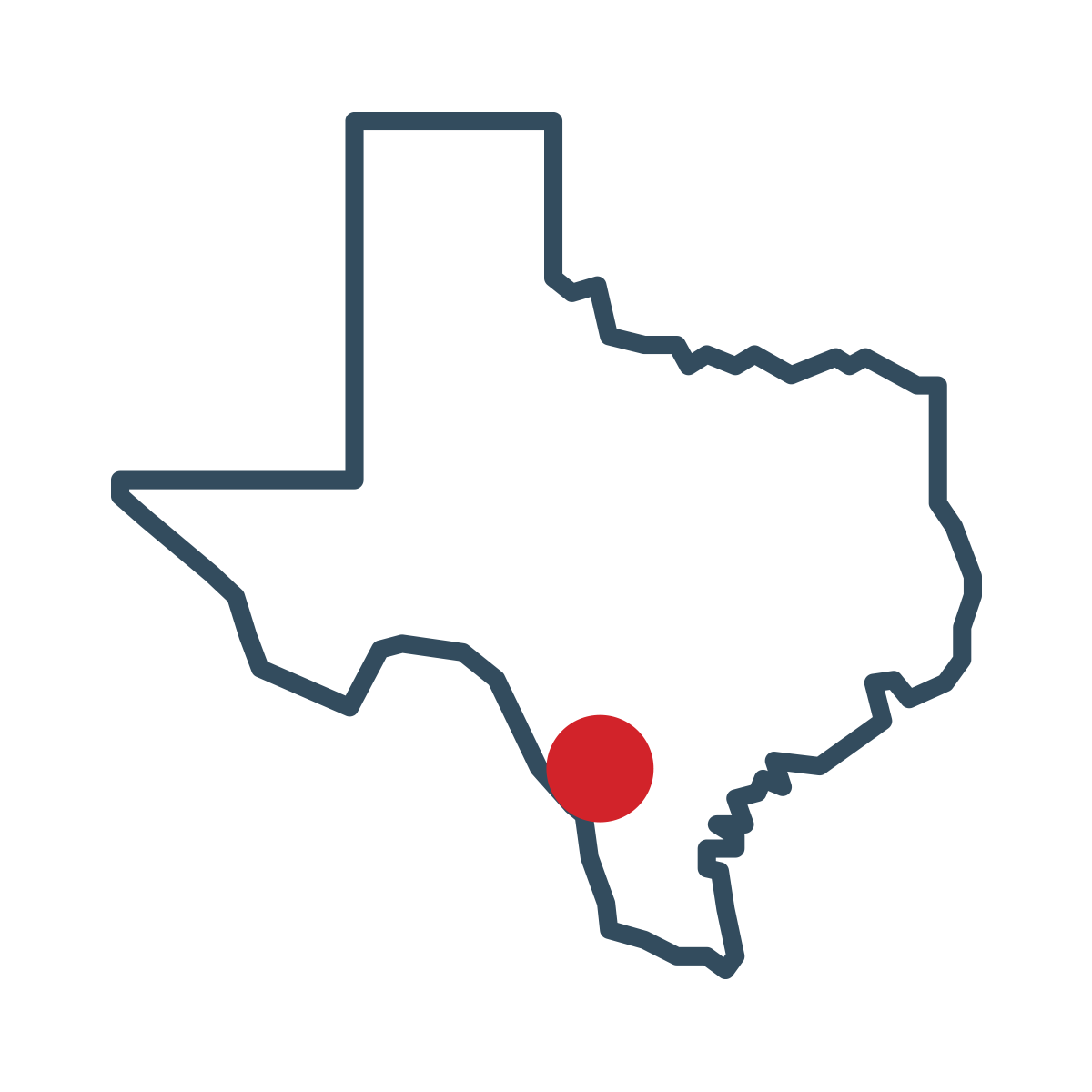 Laredo ISD Cellular Enhancement
In 2019, Laredo Independent School District (Laredo ISD), in Texas, requested a specific technology introduced by a manufacturer (Cel-Fi by Nextivity) that had not yet been installed in the United States….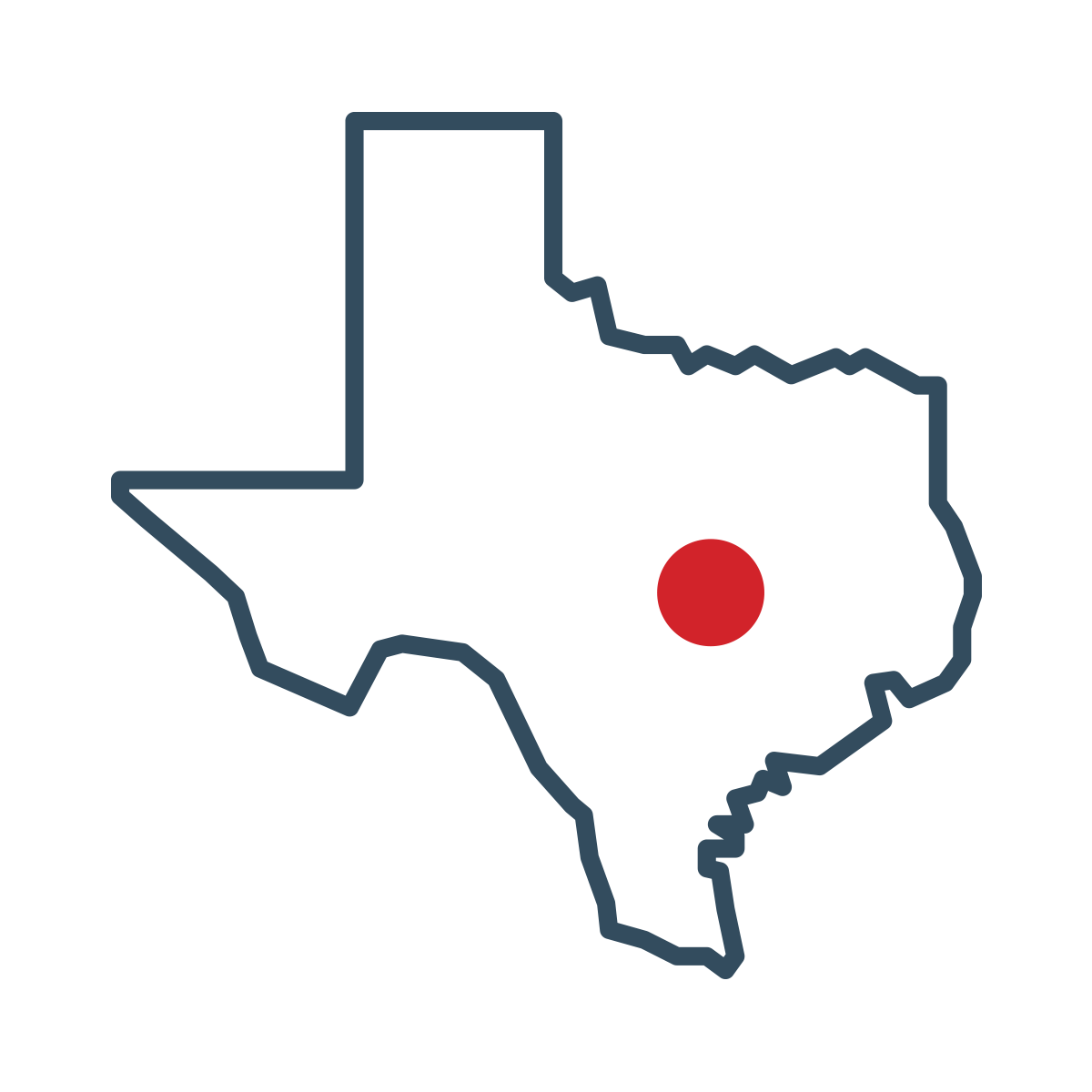 Wytec recently completed a project in Round Rock ISD that supports in-building cellular enhancement services for Caraway Elementary School. Tests were recently completed by a third-party showing positive results…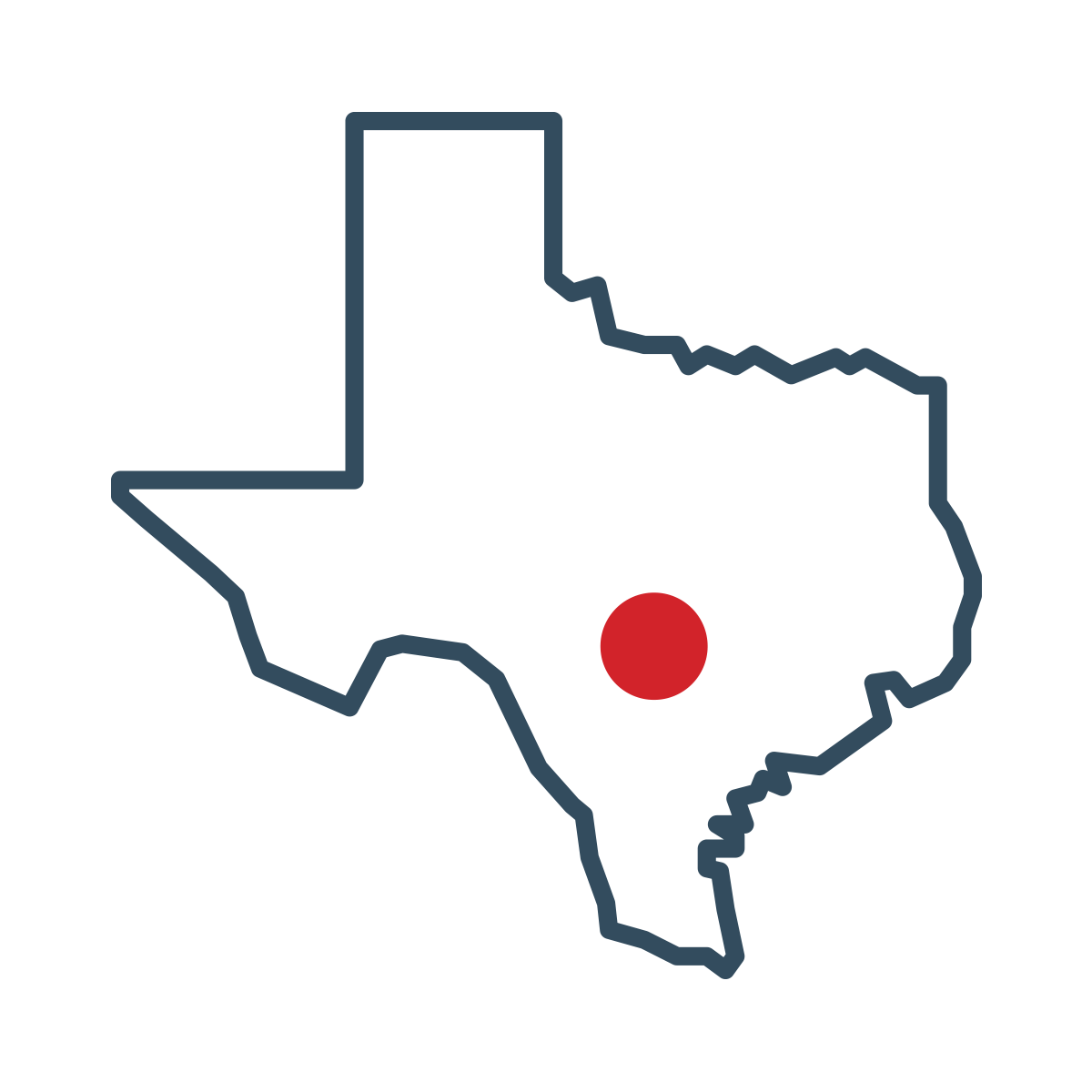 Southwest ISD Private Network
Wytec is finalizing a contract to develop a Private LTE network for a Bexar County Independent School District. Our children's education relies on fast and reliable internet connectivity, and our efforts will ensure every student …
Download our Investor Brief to get the latest information on Wytec!