Choosing a Smart Investment in 2022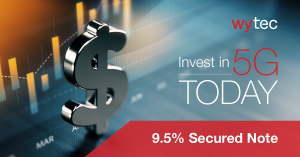 As you may have noticed, the media is flooded with disturbing news about declining stock prices amidst poor economic forecast. Obtaining traditional 20%+ annualized returns on stock investments is becoming a challenge in today's equity markets. This is driving investors to a more secure investment strategy such as "fixed income" through high-yield corporate bonds/notes. Unfortunately, most fixed income investments are structured to provide you a "fixed" interest rate that is hopefully above the cost of living. With current inflation at record highs (7+%), this has also become a challenge. What if you could have both, a high yield annual interest rate (9.5%), and a 20%+ ROI performance with one (1) investment.
Wytec International, Inc. (WYTC) is a 5G technology Company that has already achieved approvals from both the SEC and NASDAQ to list its shares on the NASDAQ Capital markets when the time is right!
Until the time is right, Wytec has chosen to offer a 9.5% Convertible Secured Promissory Note secured by its $153 Million 5G patent portfolio. The Loan to Value ratio is less than 15% and convertible into the Company's planned IPO to list on NASDAQ upon a more favorable equities market.  To learn more about this two for one opportunity, please call 888.284.4531 or click on the link below.